My seven-week stay in Nepal wasn't one marked by a visit to the base camps of Everest, tea houses in the mountains, or many of the touristy spots of Kathmandu. Instead, I was fortunate to experience a unique slice of life through leading MIT's Global Startup Lab program in Kathmandu and getting to know the growing entrepreneurship community in Nepal.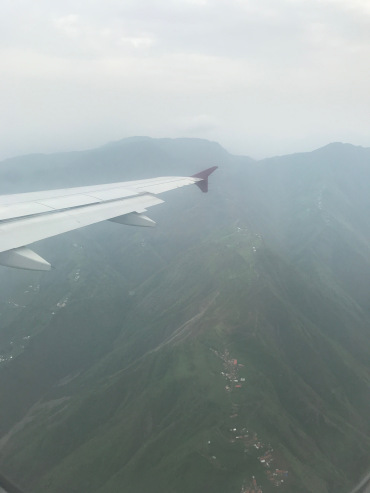 I embarked for Nepal from my home in the US with no expectations of what I'd encounter. Usually, I like to look up photos of where I'll be and a map of the area, but for some reason, I hadn't done anything of the sort prior to my departure to Kathmandu. Nearing my landing in Kathmandu, I gazed out in wonder at the towering green mountains, outlined by thin, squiggling dirt paths; then, descending towards a range of short, stacked buildings, none taller than six stories; finally, landing by a modest brick airport that looked more like a high school than an international airport. I felt like Alice in Wonderland or a newborn baby, as I looked out at the unfamiliar but lively Kathmandu streets and thought to myself, Where am I? 
I came to Nepal to lead MIT's first year of Global Startup Labs in Nepal.
n Kathmandu, I was part of four-person team leading a program from MIT called Global Startup Labs for its first year in Nepal. Our program was sponsored in large part by Ncell, a huge telecom company in Nepal, and supported by Kathmandu University (KU) and the Kathmandu University School of Management (KUSOM). Through Global Startup Labs, we led a seven-week intensive bootcamp to teach digital app development and entrepreneurship to about 35 students from KU, from a mix of engineering, business, and computer science backgrounds.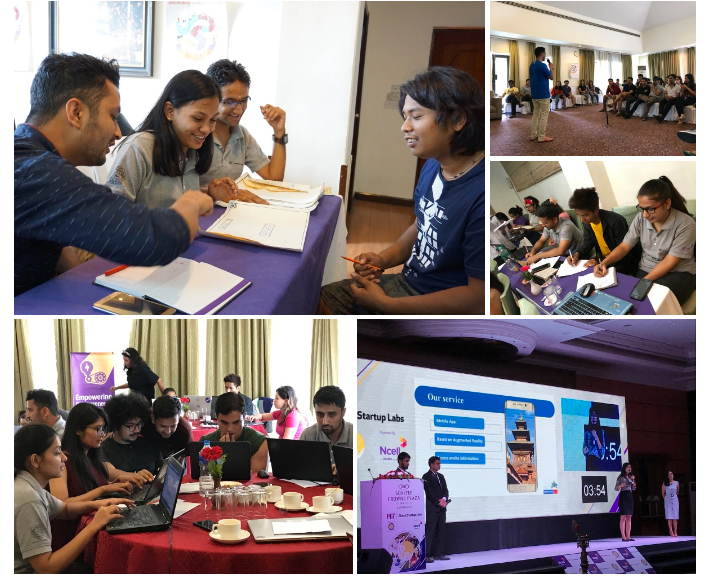 On the technology side, we focused on introductory programming, building web applications, prototyping, and user interface design. On the entrepreneurship side, we walked students through Bill Aulet's 24 Steps to Disciplined Entrepreneurship, highlighting how to do effective primary market research, define target markets, and create a strong core business model.
We also strived to build students' public speaking and presentation skills, doing theater exercises, improv activities, and getting students out of their comfort zones. Outside of classes and group events, students naturally started to build community, trust, and rapport amongst their peers and local entrepreneurs.
Our students were a splendid group of passionate, young, budding leaders. At first, they struggled to stand up before their peers to pitch their ideas or to take themselves and their ideas seriously. Newcomers to computer programming chewed over the programming labs that my technical co-instructor and I assigned, while newbies to business tirelessly iterated on their pitching skills or primary market research approaches. By the end of the program, they were fearlessly pitching their ideas to the many company founders whom we invited to our classroom as guest speakers, going out into Kathmandu on their own time and seeking advisors and user feedback, and coming in hours before class time to work on their apps or pitch slides to get our instructor feedback.
The students and staff shared much of their culture with us, especially the two of us who were not originally from Nepal, teaching us dances to their favorite Nepali songs, recommending their favorite momo spots, encouraging us to try bungee jumping at one of the best bungee locations in the world, and showing us an insider's view of the Nepali way of life. They taught me how the Nepali surname Shrestha was like the English Smith or the Mexican Garcia. They also grew an amusing fascination with my laugh. By the end of the program, I felt like a welcomed part of the community.
Leading MIT Global Startup Labs in Nepal was a heck of an adventure. We balanced preparing class material and leading class in the weekday evenings and weekends (our students were full-time employees or students during the work week) with meeting local entrepreneurs during the days, planning major program events (like our final Demo Day), and taking a little time to sightsee. Ah, and some sleep and self-care in the mix. Being in Nepal during monsoon season, we found ourselves frequently caught in sudden downpours, or driving through bumpy roads with pools of rain and mud water. 
Driving in Kathmandu often includes weaving in and out of the fluid lanes, passing motorbikes with whole families sitting in a line (including squeezing little children between parents, most without helmets).Every so often, the power to a region of the city would go out and, after everyone patiently waited for a few minutes, it would go back on. Apparently, the frequency of power outages used to be worse, going out maybe several times a week and lasting for hours at a time. We also had some interesting encounters, including having our students, in their primary market research, encounter Nepali syndicates or mafia members who wanted to know why these young students were asking so many questions about these industries that they controlled.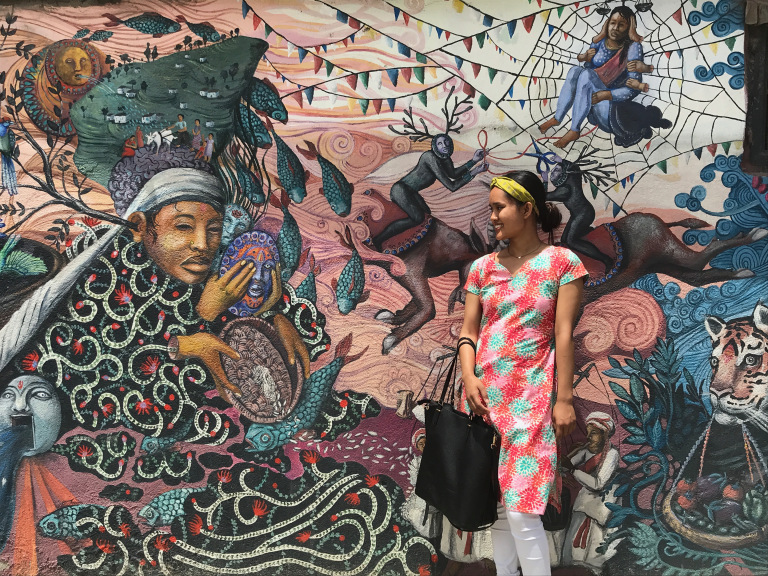 Nepal is home to a passionate and promising community of entrepreneurs.
One of my favorite parts of my time in Nepal was meeting an incredible array of entrepreneurs and local leaders working in health, education, tourism, solar energy, transportation, e-commerce, and more. Aayushi KC who founded and leads Khaalisisi aims to define waste management in Nepal, by fighting a history of poorly managed waste management in the country, challenging current mindsets on recycling, and empowering existing waste collectors to have even more reach and impact in their communities. Pavitra Gautam co-founded and leads Karkhana, an educational company that carefully designs more hands-on curriculum for schools around Kathmandu and creates learning and maker spaces for kids of all ages (and for their instructors and staff) to learn and build in an engaging, thoughtful, and personalized way.
Young entrepreneurs in Nepal have a lot stacked up against them. Nepal is cradled between two of the biggest global superpowers, China and India, which often overshadow and play light tug-of-war with Nepal. While China and India have paved their way in the world as growing powerhouses of cheap labor and smart technical people, Nepal has stayed relatively under the radar. As founder and CEO of Leapfrog Technology, Himal Karmacharya put it, he wishes to put Nepal on the map. Leading one of the largest and most successful globally-operating tech startups in Nepal, Himal and other entrepreneurs like him are on their way to doing so.
Business in Nepal has traditionally followed suit like many other Asian countries: Who you know and where you come from matters more than what you can do. Success has traditionally been defined by the connections you have. Are you the family of the executives of the company you want to work at? Do you have family ties or close friendships with the government? Did you grab drinks with that influential entrepreneur you'd like to collaborate with?  Sometimes getting things done could even require a little cash in hand to get what you want.
Like many other countries around the world, ageism and sexism affect how well Nepalis can progress in their careers or how much of their visions they can achieve. Age hierarchy — even if it is only a few years of age separating you and the person next to you — plays a huge role in Nepali society dynamics, affecting what you call your older classmates to your family relationships to how you address issues that arise between you and other people. In the teams that were eventually created in our GSL program, we found that strong cultural hierarchy based on age prevented teams from having effective communication and conflict resolution. Younger members had trouble bringing up issues with elders, even if their team dynamic and performance was suffering from it.
In our program, we struggled to get enough women but very intentionally worked to get our class as close to half female and half male participants as we could, as we believed equal representation and diversity would encourage ideas that appeal to more diverse populations of customers. Despite the residual effects of historical and cultural oppression of women in Nepal, the status of Nepali women has gradually risen, as they secure positions of leadership and influence in the country. In 2015, Nepal elected its first female president, Bidhya Devi Bhandari. There is still much work to be done: In many tech environments, for instance, there still is little female representation. In the history of MIT students originally from Nepal, I have only met two females alongside the many male attendees. Yet, with small victories, I foresee more women in business, government, and technology in Nepal's future.
Nepal Faces a Huge Problem of Brain Drain, but New Leaders are Returning Home.
Many young, talented people leave Nepal to seek opportunities elsewhere, sending remittances to family and having no plans to return home. Much of the technical talent, that many budding Nepali tech startups seek, also leave for better pay abroad. People who could be founding companies within and bringing economic growth to Nepal do so in places like Silicon Valley instead.
Along with the national brain drain, a migration from remote villages to Kathmandu is causing a loss of talented young minds who could be working to improve their home villages. Many young people gravitate to go to school or work in the capital, where there is greater opportunity and access to knowledge. In some villages, such as that of social entrepreneur and humanitarian Dr. Tshering Lama, kids even lack access to children's books. In general, educational opportunities in Nepal are limited for people lacking buying power. The government-funded public schools are not known for high-quality education and often do not have very motivated teaching staff, while the more sought after private schools (often established by foreign organizations) are very costly.
Yet, many of the leaders I met in Nepal believe there's a new resurgence of people realizing that change in Nepal is possible and will be powered by those who return to Nepal and realize they have more impact in Nepal than any developed country abroad. The people who are software engineers or business people abroad could easily be company founders or national leaders in Nepal. Many people, while they may have left Nepal to seek growth abroad, have found a calling and a growing sense that they would have a larger impact by returning to Nepal, even establishing branches of their companies and organizations in Nepal.
When Dr. Lama completed graduate school and was offered a job in the UK that would have paid him well, he said, "Okay, I'm going home," and packed his bags for Nepal. He was asked, "What's in Nepal?" He said, "A challenge."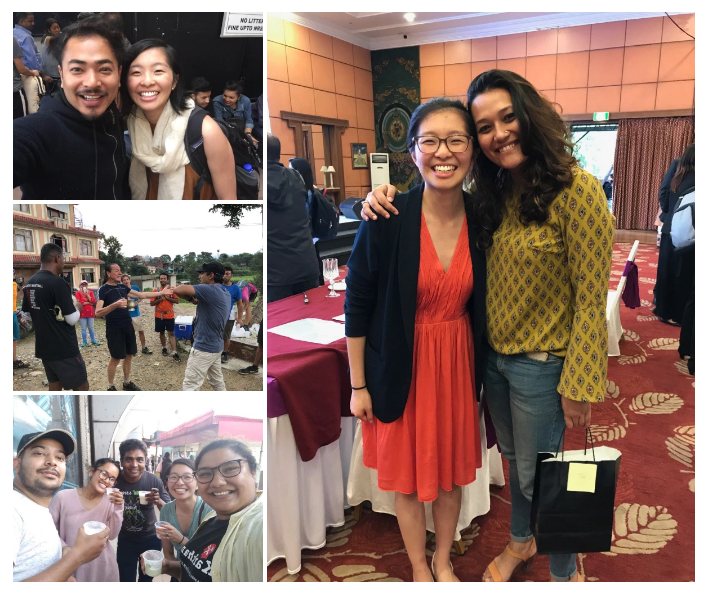 Nepal's greatest strength lies in its strong, tight-knit community.
What stands out to me about Nepal is the strong sense of community, deep feeling of Nepali pride, and desire to give back.
In Nepal, families are first priorities and form the foundation of life. Reflecting a common aspect of Asian culture (filial piety), Nepalis take care of their families. It is typical for extended families to live together or within the same block. I remember my co-instructor Sisam being whisked away for entire weekends, as she had to pay visits to her many relatives around Kathmandu. "You don't understand," she would say, fighting her tiredness to wake up early on Sunday to head to her relatives' place. "I have to go."
Even outside of families, people are kind and patient to help, particularly outside of the city. I spoke to one runner in the Hash House Harriers group of Kathmandu who got lost in a remote area of Nepal with a friend and, after asking for directions from an ordinary man who was crossing their path, he went out of his way for 2 days to help them find their way back to the right path. After, the man turned around, presumably to return to his original place from 2 days before.
As I mentioned before, Kathmandu feels like a small town big city. Even in the 1 million people of Kathmandu, the community is fairly tight-knit and is marked by a collaboration culture, rather than a competition culture. When local leaders in Nepal see a problem, they fix it with their own hands, and they bring the community together as they do it. Nepalis root for other Nepalis no matter where they are succeeding in the world. A success for you is a success for me. This part of the culture, I love.
By my final day in Nepal, the dusty streets that once seemed foreign and chaotic to me became familiar, charming, and even a bit homey. During my time in Nepal, I was fortunate to meet a beautiful community, building new friendships and partnerships that I will cherish and hold onto for life.  Many people from Nepal helped me feel like an honorary Nepali. I hope to keep these close ties and return again to Nepal, supporting the many leaders doing the incredible work they are doing to bring up their communities.
Namaste — until we meet again, Nepal!
Back to top